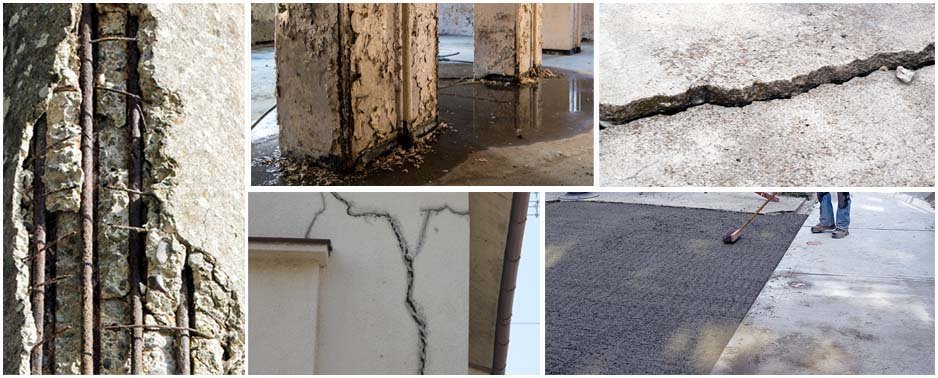 Brisbane concrete cancer, concrete cracks, spalling repairs
Concrete Surface Repairs
Concrete Crack Repairs
Concrete Structural Repairs
The term "Concrete Cancer" is a slang term for any one of a number of defects in concrete, describing a destructive process that eats away at the concrete, and the condition slowly getting worse if it remains untreated.. Concrete Cancer is caused by many factors: Including: carbonation, moisture, efflorescence and salt. When concrete cracks, water penetrates through causing the steel reinforcement deep inside to rust. Rusting steel then sheds its skin forcing the layers of rust to push away the concrete surrounding it.
Before we can repair concrete, we have to find out what caused the problem, and come up with the best concrete repair solution.
We do the necessary preparation, remove any unsound concrete and contamination, then install a repair designed to solve the problem.
Methods: control joint inserts, masonry caulks, radon crack sealants, semi rigid epoxy resin crack fillers, special poly urea caulks designed as a joint filler – polyurethane foam injection to seal cracks, grouts including portland cement, latex-modified, epoxy, modified epoxy-supported, and furan grouts or other products used to fill or seal cracks in concrete or other masonry surfaces & structures.
Brisbane Concrete Repair
Concrete Surface Repairs
Concrete Crack Repairs
Concrete Structural Repairs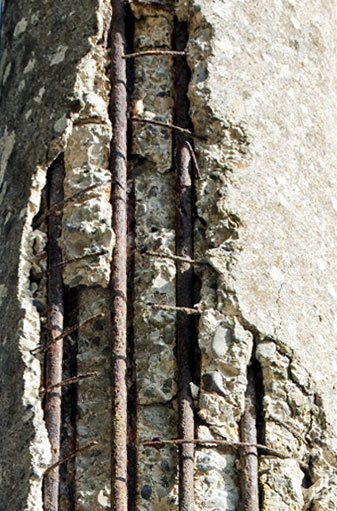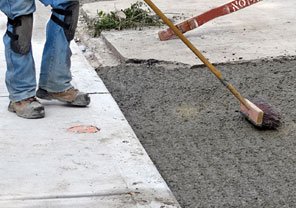 Concrete Surface Repairs Brisbane
Crazing is the development of fine random cracks or fissures on the surface of concrete, caused by shrinkage of the surface layer. Overworking the concrete surface during finishing can bring too much of the cement paste to surface, and result in a weak surface. Most cracks are cosmetic, but still there are the potential for deleterious structural effects, if not repaired.
Concrete Crack Repairs Brisbane
Concrete is strong in compression, but weak in tension and a crack implies that the concrete was in tension. The crack is ALWAYS perpendicular to the direction of the tension!
A typical shrinkage crack running diagonally from a re-entrant corner in a concrete slab. The concrete was shrinking back in each direction from the corner and that diagonal crack is perpendicular to the direction of shrinkage.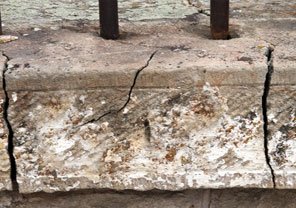 Concrete Structural Repairs Brisbane
Serious cracks that could potentially lead to a partial or complete failure of a column, beam, joist, slab or wall!
Cracks falling into this category need to be repaired with great efficiency.
Our estimators and project management team are available to help you with providing an overall repair package with associated costs.
Our licensed workers will provide quality work in a professional manner, and we use quality products and repair methodology.
Solutions for the Repair and Protection of Reinforced Concrete by FOSROC
Fosroc has over 70 years experience of supplying specialist chemicals to the construction industry. In Australia in 1985, Expandite-Rawplug merged with Fosroc Australia. The decision to combine the two companies created Australia's largest supplier of construction chemicals. Some of the most instantly recognisable brands in the construction business have been introduced by Fosroc including: Nitoseal, Conbextra, Renderoc and Thioflex. Parchem have been manufacturing and distributing Fosroc products under license since 1996 (formerly under the Parbury Technologies name) and have continued to introduce innovative new products to the Australian market utilising the latest technological developments from Fosroc complimented with local product innovation to suit the Australian market and needs of Australian customers.